TRAVEL TIPS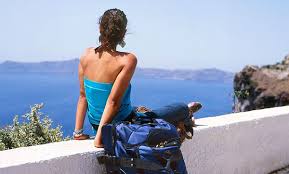 Do Some Research – 
Be it a trip with family, friends, or an journey of self-realization, it is important to plan your trip down to the bone. This helps ensure that you don't miss out on anything and make the most of your vacation. Be sure not to over plan or follow an extremely rigid schedule, though, because no one likes a travel kill joy.
 

Check the weather –


Always

check the weather forecast

and carry appropriate clothes according to the climate. Comfortable footwear, atleast more than one is a must.
Be Devoted –
Being loyal to an airline most certainly has its perks. With loyalty programs, flyer miles and upgrades, opting to stick with a preferred airline makes traveling a lot more fun, if not easier. Loyalty programs also offer a range of discounts at duty-free stores. All in all, it's a win-win situation!
Dont Travel without These…
1.Always carry a universal adaptor,Camera,Mobile etc. You don't want to get stuck , unable to charge your mobile, laptop, battery etc.
2. If you have an iPhone or an android phone, there are tons of applications you can download to find the best local restaurants, hotspots and hangouts around town. Explore it!
3. Do carry a small First Aid kit with Basic Medicines, Bandages, and cotton.
4.See that your mobile has GPS or at least download Google Maps as that will help you in locating your destination
If it's your first time Visit to any city,
make sure you arrive during the day –
it is always safe to arrive to a new place during the day.Keep phone contacts of the guesthouse/Hotel  as well as friend at all times; don't leave the airport until you have connectivity,and your phone is charged. Also call to the Hotel/ guesthouse beforehand to find out the time it would take you to reach there, as well as some landmark along the way.
Have a Taste of Street Food-
Visit Local Restaurants as well apart from other Star hotels during your Vacations.Save on food by eating at locally famous street food places or small restaurants that locals visit.  This will help you know the city as well as its culture!
Shopping …
Make sure you do some shopping in all the travel places you visit. Buy things those act as a remembrance of the city you visited. There are lots of products on different budgets suiting all traveller's like Handicrafts, Paintings,Local Accessories etc.
A funfilled, safe holiday can never be complete without  you fulfilling this checklist. So Divas, keep these travel facts in mind and Enjoy your vacation…